What makes a story worth repeating? In our daily interactions, it's generally a compelling theme, an unexpected turn of events, or a great storyteller. Stories make us laugh, cry, smile, and empathise.
Because they engage both our minds and our feelings, stories are one of the most memorable and exciting mediums humans can use to communicate their thoughts. If someone tells you a statistic, you'll likely forget it in a matter of minutes. But if that statistic is woven into a story, we make mental connections between our emotions and that statistic - and suddenly, we're using that bit of knowledge in subsequent conversations.
Marketers are always looking to storytell in their content because it's one of the most compelling ways possible to make numbers, images, and cold, hard facts stick in the minds of their target audience.
It's a skill that every marketer can and should leverage. Here are eight companies that have mastered the art of storytelling and why we love their stories so much. While creating viral videos isn't within the budget of every marketer, the strategies they've employed to craft their stories are applicable to the marketing efforts of any business.
8 Examples of Branded Content For Effective Storytelling:
1. DOVE
As a household-name beauty company, Dove is in a powerful position. They could contribute to the media's false portrayal of beauty by retouching ads, hiring unrealistically thin models, or exaggerating the effects of their products, only to disappoint buyers and further raise society's unrealistic beauty standards.
Instead, they create inspiring, tear-jerking, down-to-earth content that captures the day-to-day worries of being an average person in a photoshopped world. They don't just create commercials for their products, they spread a social message.
Dove has an entire campaign called the Self-Esteem Project that seeks to challenge beauty standards. Not only are the videos fun to watch, they also demonstrate Dove's relatability as a brand and reinforce the company's sense of mission.
Key takeaway: Don't just create content that promotes your product. Create content that shows that you care about your potential customers and their stories and challenges.
2. GOOGLE
It's an oldie but a goodie. Google came out with a video in 2009 that told the story of a man falling in love by going through his Google searches chronologically. (We won't reveal the ending. You'll have to watch yourself.)
Clearly, the marketers at Google were incredibly creative in using their own tool in the content of the video. But our favorite thing about it is that Google didn't just give viewers the story at face value. They allowed their audience to make inferences, which made for a viewing experience that let people come to their own emotional conclusions.
Key takeaway: When you're telling someone's story, there's no need to share every detail. Select the details that make the story unique and contribute to the story's emotional pull.
3. ASKINOSIE CHOCOLATE
They might be a small company, but the team at Askinosie Chocolate knows that there are many more people besides their direct employees who make their chocolate production possible.
On their website, they tell the stories of people involved in every part of the supply chain. They provide lengthy descriptions of the regions from which their chocolate comes, the process of making chocolate, and the inside workings of their factory.
By telling the stories of every person and place involved in the production process, they show that they're invested in the origins of their product, not just their financial success.
Key takeaway: Share the stories of the people behind your product or service -- it introduces a human element to your marketing, and prospects will respect your transparency.
4. GOPRO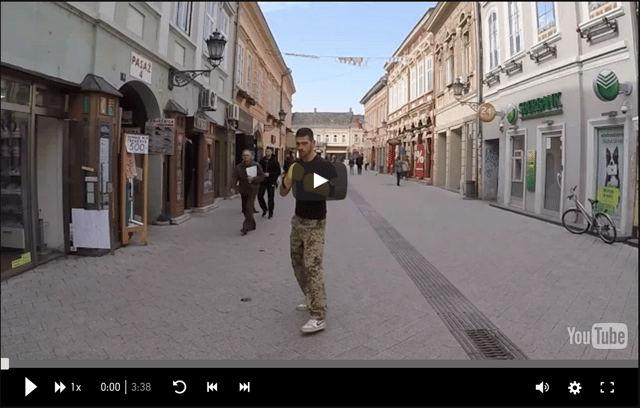 What we love about GoPro is their willingness to "walk the walk" and use their own product to create content that inspires potential customers and current users. Their content is visually compelling and extremely shareable. They take viewers on journeys to new parts of the world and allow people to visualise things like extreme sports, stunning hikes, and beautiful cities.
GoPro's usage of their own cameras in creating their content shows off the value that their products supply and the versatility of their product, as well as appealing to the adventurous spirit of their target audience.
Key takeaway: If your product or service could possibly be a medium by which you could market, use it! Show, don't tell.
5. KICKSTARTER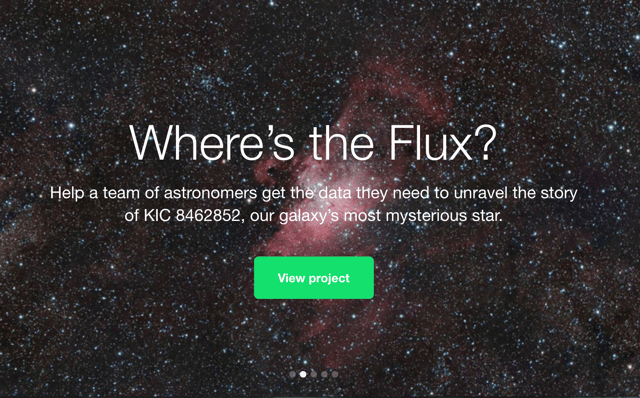 Kickstarter, an online fundraising platform, does a fantastic job spotlighting the various musicians, inventors, writers, artists, fashion designers, and entrepreneurs who use its website to raise capital to take their ideas from dream to reality.
To drive traffic to its site, and ultimately to help its users fundraise, Kickstarter spotlights various projects. They explore the origins of each project and talk to the minds behind them, compiling the story of how such creative ideas came to fruition.
The stories on Kickstarter's website show that the company cares about making each budding artist and entrepreneur successful. The projects they feature usually far exceed their fundraising targets -- meaning that by sharing the stories of their users, Kickstarter is not only creating great content, but also helping its users achieve their goals.
Key takeaway: Make it clear through your content that you want each customer's experience to be a success story. Aim to help and delight your customers through your content.
6. CHARITY: WATER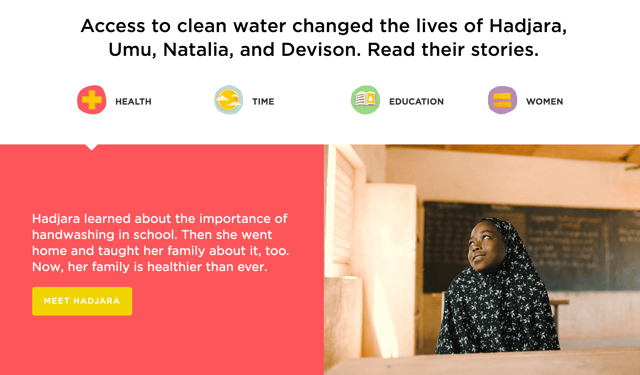 Non-profit charity: water tells the stories of the people to whom they bring clean drinking water and of the aid process -- detailing how they transform donations into self-sustaining clean water infrastructure in developing communities.
We love that charity: water organises their stories in readable, timeline formats and intersperses text with beautiful, moving photos from the communities in which they're working. Visual aids go a long way in convincing readers that a cause is worth supporting.
Key takeaway: When communicating stories through text, incorporate quality images that create a strong and memorable image in your readers' minds.
7. SKYPE
.@Skype Check out this behind the scenes look at the making of (sloth)! https://t.co/XH3j84HV48 pic.twitter.com/b1DYb12D0W

— Skype (@Skype) June 8, 2016
Skype has become such a popular platform that "Skyping" is now a verb that implies any form of communication through video. Not many people spend time on their website beyond downloading the software, but they leverage their popularity to create engaging social media channels.
Skype partners with athletes and celebrities to creating exciting series on their lives and then shares segments on their social media channels. They've really mastered the art of building a Twitter buzz around each partnership, which keeps their followers coming back for more and more content.
Key takeaway: Try telling a multi-part story and leveraging social media channels, not just your website, to generate an ongoing buzz about the series. You can start with a Facebook business page and Twitter page to engage a large number of leads and customers, and then expand to any other appropriate channels like Instagram or Pinterest.
8. MICROSOFT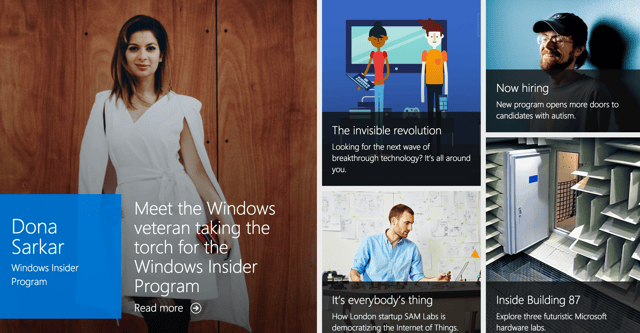 Skype's parent company, Microsoft, takes storytelling to the next level, utilising a variety of mediums to tell stories of innovation and growth. They tell the stories of the future, discussing ideas on the cutting edge of technology.
What's amazing about their content is its ability to make its readers imagine what could be. Inspiring, exciting, and revolutionary, the people who they spotlight challenge the world as it is today, seeking to carve new paths.
Key takeaway: Your stories don't have to take place in the past. Often, the content that sparks the most conversation is that which expands our minds and introduces us to concepts we've never dreamt possible.
Storytelling is an art that takes practice but can be done through an enormous variety of mediums. Explore different methods of content creation and look to those around you -- your customers, your employees, those who produce your product, and thought leaders -- for inspiration. Get started with the Creating Content ebook available below to leverage storytelling. Get started breaking through to your audiences in new and exciting ways that will allow your own brand and stories to make a mark!