Goodbye winter, hello spring! The warmer weather's here at last. There's one springtime tradition that most people either love or love to hate: spring cleaning. It can feel like a whole new start, with a little sprucing up here and tidying there.
However, there's one aspect of spring cleaning that people often forget: their business website.
Spring cleaning your business' owned media is an awesome and important part of solidifying your marketing strategy. Your site and social channels are the platforms over which you have ultimate control. By auditing past content, you can:
Rediscover amazing evergreen content
Identify old content that no longer aligns with your business
Inspire future campaigns
Spring cleaning your website probably won't be a quick sprucing to do overnight but it's worth putting in the time and effort. Your website pages, blog posts and social media posts are the centre of activity for your business online. That's why we've put together some simple steps below for you to follow to audit your owned media and maximise your content creation efforts.
Where to begin: Compile the ultimate to-do list
For lots of people, the idea of spring cleaning your owned media is terrifying. There are probably hundreds of posts, pages and social updates to examine. As mentioned before, this isn't something to pull an all-nighter for. A thorough audit takes time and should deliver the largest, scariest to-do list ever.
This list will include:
A list of evergreen content that you want to start promoting again on social media
A list of content that needs rewriting
A list of content that needs general sprucing (in terms of SEO, visuals, editing, etc.)
A list of awesome content to be used as a benchmark of quality for future campaigns
Step 1: Compare content length
Compare content length across all of your blog posts and pages. While "quality over quantity" is true, it doesn't make quantity obsolete.
The fast-paced world of shorter attention spans makes a strong case for shorter, more snackable content. However, there's an even stronger case for keeping content at least 500 words long, if not more. Website pages that house less than 500 words of copy often have abysmal chances of ranking well, in particular for the most competitive keywords. Google's top 10 and top 30 search results offer more than 1000 words on average. It's clear that while quantity isn't everything, it is a factor of content quality that Google considers.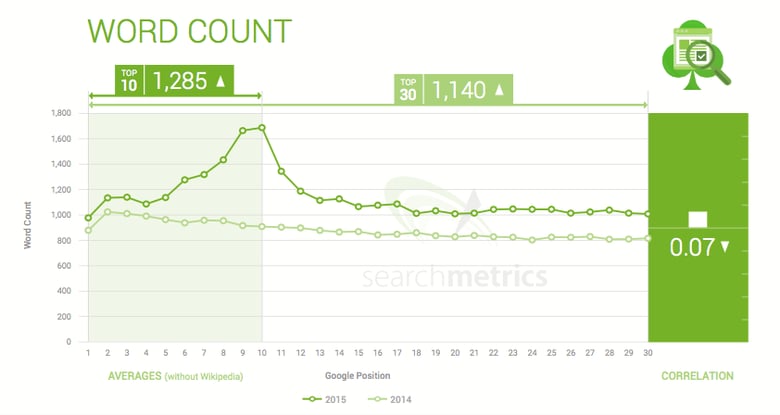 Image credit: Econsultancy
Also, it's not just for SEO reasons that content length is important. After a thorough content audit, Buffer identified the strong link between a higher word count and a greater number of social shares for blog posts.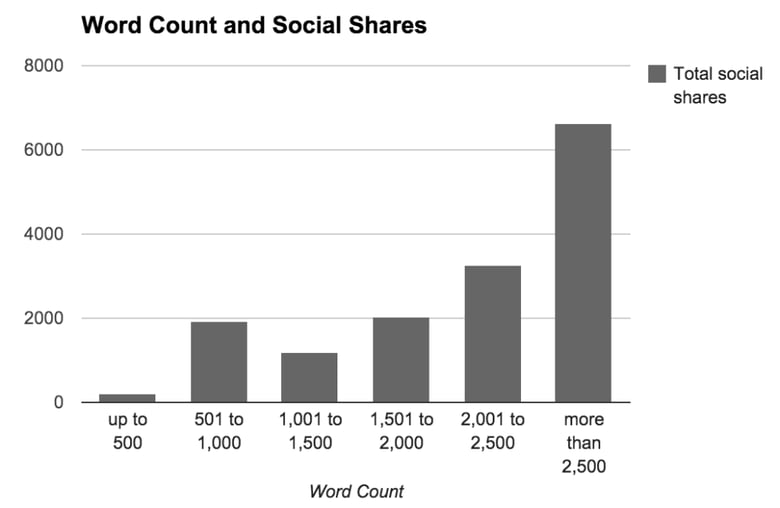 Image credit: Buffer
Where snackable content excels at being bite-sized, lengthier content has the greater chance of becoming the indispensable, highly shareable resource. For this reason, quality longer content has the advantage of establishing more authority.
Ensuring all of your pages and posts have high-quality content, at a minimum of 500 words, will go a long way in optimising your online presence. As you audit your owned media, compile a list of content which needs to be rewritten, extended or removed.
Step 2: Evaluate quality and consistency
Not all content is king. If it's low quality, generic and riddled with errors, then it's probably closer to the dunce of the village. It's becomes bland background scenery. Visitors won't be that excited to hang around and will probably overlook you for greener pastures.
The real king is quality content that's targeted to the pain points and interests of your potential customers. The reality is that most businesses evolve, with changing goals and with employees coming and going. This sometimes results in fluctuating quality and style. An audit will reveal all of the quality content along with the content which no longer aligns with your brand.
Invest the time to identify which posts and pages require editing or rewriting. A small spelling error here or a missing comma there are quick and easy changes to make. Yet, they make a huge difference in creating the right impression.
Compiling a writing style guide will also help to avoid future inconsistencies. A simple guide can contain anything from whether to say ebook, Ebook, eBook, or e-book, to figuring out when you should use a conversational, controversial or sophisticated tone.
Step 3: Check the visuals
Great visuals matter, especially considering our brains process images 60,000 times faster than text. Using images throughout a blog post or web page also breaks up the text to make the overall reading experience more enjoyable.
During your site-wide audit, there are a number of ways to optimise the visuals. Take the time to identify and remove the low quality images or images that no longer fit your business' brand. Furthermore, if you've embedded images from sites like Instagram and Flickr, then the last thing you want is to find that the image has been deleted and no longer appears on your site.
Other considerations include:
How large are your images? Too large images slow your site down, while too small images are less effective.
How consistent are your images? A visual consistency creates a more pleasing reading experience.
How relevant are your images? Could you use a more relevant image to illustrate key points in the copy? For example, a diagram or graph could better convey information, than a long paragraph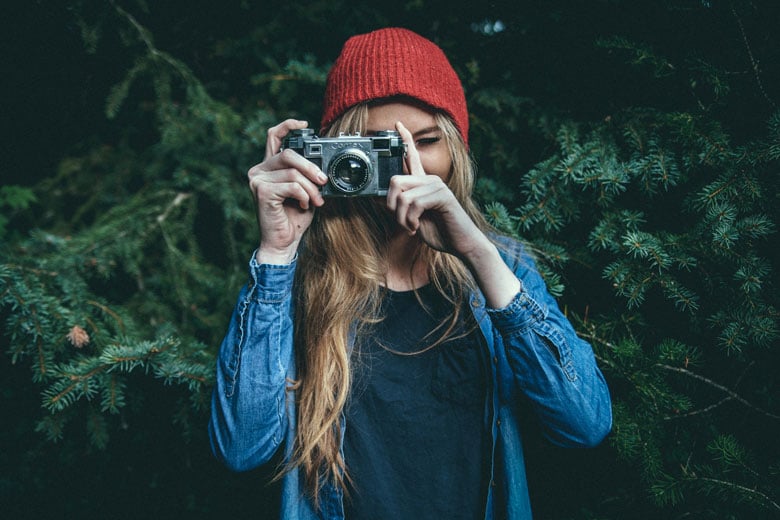 With dozens of sites offering high-quality, free stock photography, there's no reason your business can't leverage the best of great visuals.
Step 4: Perform an on-page SEO health check
Auditing your owned media is the perfect chance to perform an on-page SEO health check. The reality is that SEO and content marketing need each other. Therefore, implementing SEO best practices can go a long way in optimising your online presence.
These days search engines are highly intelligent, such that they're able to deliver high quality content that meets a searcher's intent. Their goal is to rank good quality content higher and spammy content lower. For this reason, many of the SEO on-page best practices centre around providing the most enjoyable experience for visitors. As you catalogue your owned media, keep an eye out for these factors.
Have I formatted correctly?
Correct formatting makes your content an easier read for visitors as well as search engine robots. Use of appropriate h1 to h6 headings helps create a visual hierarchy for easier consumption. Other details, like breaking up long paragraphs and inserting images, also enhance the overall experience.
How healthy are my links?
There's nothing more annoying for a reader than finding an amazing article online, but discovering that a few of the outbound links are broken. The transient nature of the internet unfortunately means that websites come and go with little warning. Invest time to check all of the outbound links, to ensure they're still high quality and relevant.
Spot the keywords!
The danger of keywords is either stuffing your content with too many or forgetting them altogether. The best approach involves using variations of your primary keyword in a natural way.
Where's my alt text?
Search engines are smart. However, they're still haven't quite mastered the art of "reading" images. Search engines will often use the alt text of images as well as surrounding copy to "read" the image. Make sure all of your images have alt text which is explanatory and relevant.
Note: this doesn't mean you should stuff your alt text with keywords.
Step 5: Identify how each piece of content complements the funnel
The best measure of content marketing success is the number of conversions from visitor to lead and lead to customer. Maximise your content efforts by examining how each piece of content complements the funnel.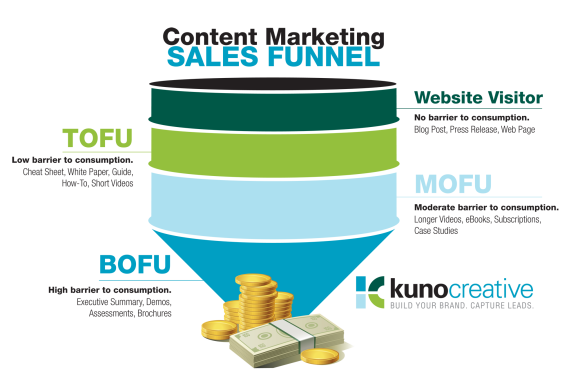 Image credit: Kuno Creative
An even spread of content ensures a complete and effective funnel, that drives revenue.
Step 6: Document success
An audit is all about identifying weak points as well as celebrating the wins. A tool like Moz or Hubspot will help you to identify which blog posts and pages are ranking for which keywords. Identifying the average visitor to lead conversion rate will also be helpful for future campaigns and expose new opportunities in your approach.
Step 7: Identify the highest performing social media posts
The final step of your spring cleaning audit is evaluating your most successful social posts. Collecting the right data helps you to identify:
The most effective copy
The time of day which generated the most shares and favourites
The number of times people shared your content - even when they don't tag you
The most effective platforms for driving traffic
Try this excellent Twitter hack for finding the most popular tweets! When you type site:[insert URL] into the Twitter search bar, Twitter lists all of the tweets which share that URL. This even includes all of the tweets that use a special link shortener, like bit.ly or buff.ly!
For example, in the example below we searched for one of our evergreen blog posts: 10 must read blogs for the ambitious salesperson.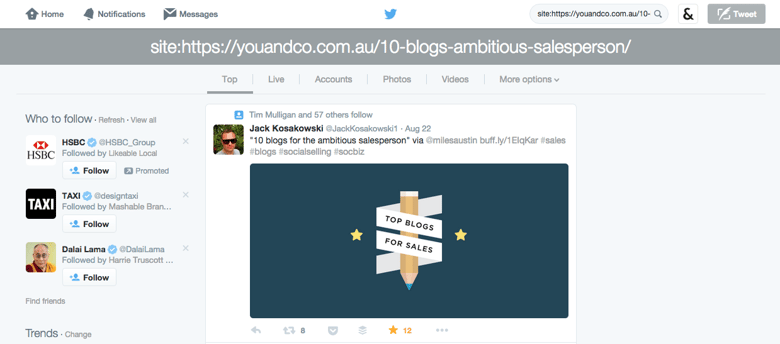 Where to go from here?
Once again, this spring cleaning isn't a one day endeavour. You'll probably spend weeks, if not months sprucing up different areas of your site and social channels. Once you have your epic to-do list, set a goal number of content pieces you want to work on each week. While small changes might feel pointless in the short term, it all adds up and allows you to maximise your past efforts for long term success.