When it comes to page load speed we're told that faster is better - but what does this really mean? We've compiled our best page speed insights to help you focus on what really matters (and tell you what's out of your control).
No one likes to wait for a page to load, and when it comes to your website, visitors will bounce if you take too long. With more and more website visitors using mobile devices, no matter what their network speed is, they aren't willing to wait. Slow page loads will also now start to affect your page rank. Time to speed up, or you could be slipping down in your search engine ranking.
Slow site speed can be bad for your brand, engagement and sales. If a visitor can't load your page fast enough, they are 78% more likely not to return. This lost traffic means they may be turning to your competitors for that next quote or to access that free SaaS trial - and we don't want that!
Quick tip: try to keep your .gif or images under 100kb so it doesn't slow down your page speed. This .gif is 1.4MB 😮. Worth it to prove a point? I think so.
Are there industry standards for page load speed?

When we started testing for page load speed, we wanted first to set ourselves a realistic target based on the industry benchmarks . A 2017 study by Google found that on average, mobile landing pages load in about 22 seconds, and 53% of mobile visitors won't bother to stick around a page if the load time is over 3 seconds. That presents a big "uh oh" for most businesses. And a big opportunity to make sure your website is set up to capitalise on other websites mistakes.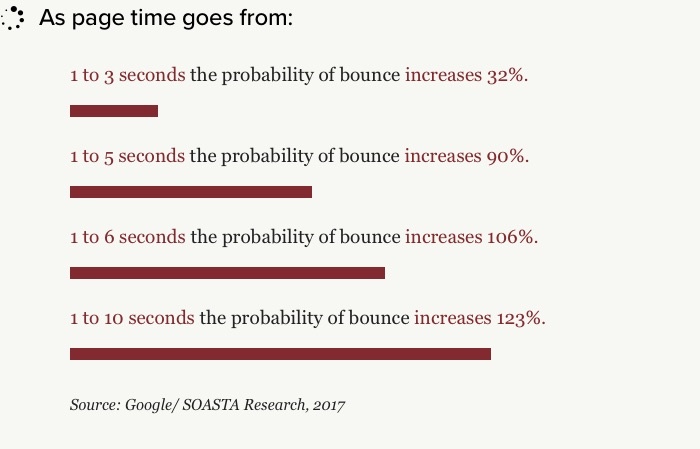 This .jpg is 45KB, now we're talking!
A major contributing factor to page load speed is the size of your website. In Australia, average 4G mobile network speeds are below 20mbps, 3G below 5mbps. But when it comes to peak load times, you are looking at a drop in speed upwards of 10%. Google's study also found that 70% of pages are 1mb and over 12% are 4mb.
How can I execute a website speed test?
Before you start testing, consider your customer personas. Say you're a B2B SaaS company, Big City Bob visits your website throughout the day on his work computer. Business internet speeds will have that page loaded in no time! But Rural Ruby, she may be looking for access on her mobile as she is on the go and working outside a major city. Her experience will have a much bigger impact concerning load speed.
A 2017 study by Google

found that on average, mobile landing pages load in about 22 seconds, and 53% of mobile visitors won't bother to stick around a page if the load time is over 3 seconds.
Important to mention here that search engines are heavily favouring mobile traffic - with Google Accelerated Mobile Pages (AMP) which are instant loading pages that work well for news type sites. If your offering (and your customer) deems page speed important above all else, that's worth looking at.
Tools you can use to gain page speed insights:
We ran tests across 3 different page speed tools: Gtmetrix, Pingdom and Google developer. When it came to the results, all of them gave us different answers. Not only that, when we ran the tests at different times of the day, the page load speed times varied even when using the same website.
The reason? Network speeds vary based on local loading and even your internet connection. This variance was our major hurdle to getting a proper answer to 'how fast does our website load?'.
Since we couldn't rely on getting a straight answer on our load times, we decided to look into what we can optimise. We focused on page size, and the number of processes that run on the page. Page size is the total weight of the page that is required to download and processes are the number of items that need to load as your page is built.
What helps to speed things up?
Golden rule - you want the page to be under 1MB for maximum speed for page load. Of course in HubSpot that's REALLY hard, so let's aim to get as close as possible. Here's a cheat sheet in shrinking your HubSpot site pages to give your users a great experience, that you can do today, right now, no design or dev needed.

1. Reduce those images
If the whole page - including CTA's and tracking, elements and video - is supposed to be under 1MB, how do you expect to get there if you're loading 2MB images? Maxing out your images at 100kb each can have a massive effect on your load speeds. You can do this by using a .jpg instead of .png. They are typically smaller and easier to compress.
When it comes to most pages we audit, images can take up to 50%+ of the page size. Say if your page size is over 3MB, that's a lot of space you can free up with a simple design edit. Try this compression tool to reduce image sizes and swap those big image files out now!


2. Watch out for your tracking and tagging.
Every day there are new tools created to help you dive into greater analytics around your website visitor, re-market to them and see what they are engaging with on your website. You're probably using a whole bunch of them (these might ring some bells: HubSpot's Analytics tool, Google Analytics, Facebook Pixels or LuckyOrange..?) They give you great intel, but these scripts slow down your page load. Each of these tracking tools require a request to load them, and this will slow down your load time. We're not saying throw it all out, but keeping your focus on what is helping you generate a lead will help you trim down your website.
Pro tip: Use a global tag manager.

3. Maximum speed using HubSpot
All of HubSpot's goodie bag relies on script that needs time to load. The beauty in utilising the best of HubSpot's performance testing tools (A/B Testing CTA's/ tracking users) is also it's downfall in that those wonderful analytics are slowing that page down - ironically decreasing the opportunity for conversion. Tracking, CTA's, SMART content, forms on page should be used in an careful manner to ensure you aren't cutting off the nose to spite the face.


4. K.I.S.S. principles in full swing.
When looking forward and amending any design work GDD style, please feel inclined to simplify your page, minimise your use of images and refrain from tracking every element on the page. Your user won't stick around to see your glorious Mona Lisa of a website if it's taking its sweet time anyway, so there'll be nothing to track!


5. Set a page speed load benchmark
The thing that only you can decide: how much do you lose by confining your website to development restrictions vs providing a high value experience with the potential of a slower experience.
When it comes down to it, you really just need to compare speeds against yourself. Your customers' are going to have different needs compared with other companies. So, if your conversion is simply getting someone to pickup the phone and give you a call, your page size of having a text phone number is much different than one with a video that ends with a data capture form. Consider your needs, set a benchmark for good, and bad and monitor your load speed. If you don't your customers will just BOUNCE!
Want to assess how the well the rest of your Inbound strategy is applied in HubSpot? Use the free Audit Tool below for a quick analysis, delivered instantly.