HubSpot is close to releasing an updated Zoom integration which will open a new door for those SaaS businesses looking to take their webinars and conferencing to new heights with more lead intel, ultimately helping to close more deals, and improve the on-boarding and customer experience.
In this post, we'll dig into the areas with examples of how SaaS businesses could leverage the updated integration through relevant and specific areas of their funnel.
First things first, let's show you how to set it up.
This is how you do it: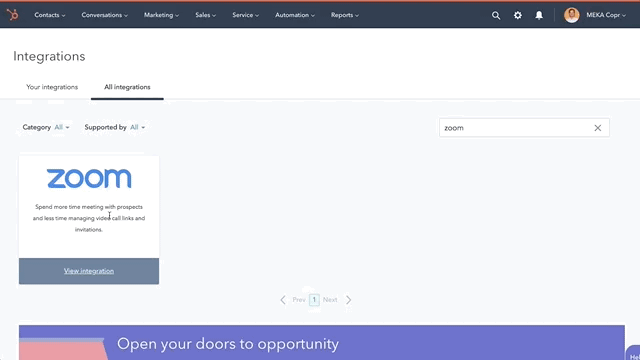 To kick things off, as this is a beta function you'll need to sign up before you can gain access. Then you'll need to navigate to the 'integrations' section on HubSpot to link the two, after that you're ready to start exploring - thanks to HubSpot for this nifty breakdown.
Now you know the how here's the why!
Acquisition Stage
As you'd be aware, the acquisition stage is where you're trying to get people to come into your trusty funnel. Zoom, as a standalone already had a huge amount of cool functionalities and integrations that could be leveraged in this stage, a big player was being able to stream webinars through Facebook Live. If you or your marketing team had already been using Zoom and Facebook's Integration, you'd know more than most how handy this was for reaching a broad audience. Now, by being able to integrate Zoom with HubSpot, when you stream your Facebook Live webinars (or any webinar through Zoom for that matter), it comes with the attached lead capture that allows you to not only use Zoom as a connection tool but to flow leads into HubSpot from those who've attended. So you can not only reach a broad audience but find out more about them.
Monetisation Stage
The monetisation stage has a very similar flow and structure that's found in the acquisition stage. Once you've got your faithful leads, you're really wanting them to graduate into paying customers. For businesses employing a free trial, freemium or demo options, there are some really nifty tactics you can use for nurturing your leads further down the funnel.
HubSpot and Zoom's integration allows you to embed webinars and meeting links into your nurture sequences, automatically register attendees and to send out customised registration confirmation emails. A way to leverage this integration in your monetisation stage could be to reach out to prospects based off segments relevant to what you're trying to achieve (i.e persona type for job-specific content or business type for SaaS relevant content), this coupled with the prospects lead score could be the basis of your invitation. Irrespective of whether they're pre-sign up or not, by utilising your existing knowledge of their buyer behaviours you can automatically send out webinar invites directly from someone on your team.
Typically to date, webinar invites have been an archaic manual process. What we're noticing across marketing and sales is that it's become a balancing act through learning by consistent communication whilst not becoming too cookie cutter. While you can automate many parts of this process, it just won't replace the genuine touch of a human interaction, we'd suggest being wary with your use of this.
As Kipp Bodnar, HubSpot CMO so eloquently puts it,
"Nothing quite replaces the connection you can make in person, but a good video meeting comes pretty close. Video meetings allow you to grow relationships with prospects and customers even when you're not able to be in the room with them."
Expansion Stage
Sitting in the expansion stage, you've successfully converted your website visitors into leads, and then into paying customers. Score! But what's next? You've attracted, converted & closed, so now it's time to delight.
By nurturing and maintaining the relationship you've built with your customers through continuously exceeding their expectations, their trust will be placed in you and you'll find upsell opportunities will come naturally. To back the importance of growing revenue through strategic upsell and customer advocacy, it's paramount to note that by upselling existing customers, you'll save 4x the cost than acquiring new customers; costing just $0.28 to acquire an additional dollar of revenue. By plugging your existing Zoom account in with your HubSpot, you can utilise a whole range of functions to continue to wow your customers.
Whilst in beta stage for Enterprise users, we're sure it's only a matter of time before it's rolled out across the board - the arrival of this long-awaited integration will no doubt be a success.