It's nice to feel valued. To feel like not just another dollar sign. To know I'm important as a customer. To be included in the things that matter to me.
Technology has done an excellent job of bringing people together, while saturating the market with an unimaginable spread of interruption. Facebook, Buzzfeed, Instagram... all major communications platforms that have gone to the darkside, with advertising leading the way. Businesses using the place you talk to your cousin to sell you protein powder and scented candles. It's lost its authenticity - dare I say bring back 2005 MySpace?
So, what can we do about it? What can businesses do differently in the online landscape to show their customers that they give a sh!t about their experience with their brand and business without bombing their future and existing customers?
How bout making it about them? Give them the opportunity to tell you about themselves and use that information to personalise their interaction with your business with tools like HubSpot! You can get pretty cosy with a customer while they are experiencing the best service for them - it's a win/win - and Smart Content does just that for website personalisation.
WHAT IS SMART CONTENT?
Smart content is used to personalise your customers web experience with your business. It lets you place targeted content based on anything you already know about your contacts. It allows for your visitors to have an increasingly valuable and more relevant experience each time they interact with your business online. Smart content is used to personalise a customer journey based on criteria the visitor meets.
THE SMART CONTENT JOURNEY:
Visits site for the first time - default experience.
Visitor converts on a form - information recognised by HubSpot
Revisits site to information that is personalised to them
Converts higher on personalisation pages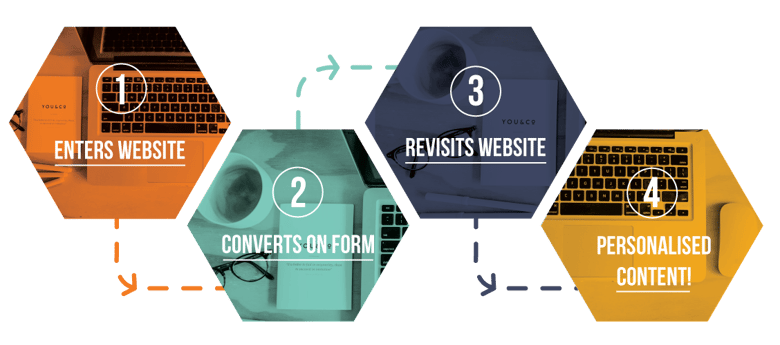 WHERE CAN I USE IT ON MY SITE?
Now we get into the meaty bits. The real "WHY" of Smart Content. Here's a couple of real examples, across a few of HubSpot's website personalisation tools.
The Smart CTA for personalisation
Change the CTA's based on what has already been downloaded, or a CTA designed for each persona. This is the way to cross promote an existing content piece to multiple personas.
HubSpot looked at the data for more than 93,000 calls to action created using HubSpot over a 12 month period and discovered that calls-to-action targeted to the user performed 42% better than calls-to-action that were generic. Investing time in setting up and utilising smart content in your website has certainly shown to be worth the effort.
Smart Content Exclusions based on Persona
Have new ebook perfect for Marketing Mary, but not so useful for Director Daniel? Don't waste your precious real estate by featuring the wrong content! Give Daniel what he wants. Give Mary what she wants. Set up Smart content modules for featured resources, so Mary and Daniel can get what they came for, quickly.
What is shown in whole sections of the site
Display services akin to the pain point you've identified. You might choose to display testimonials akin to the persona or industry for relevance, and more information around services that they have identified as needing help with.
This can also change based on where the visitor has arrived from. The geolocation gathered from their IP on entry can help to make the language more colloquial and natural for the user to engage with.
Bonus tip: Consider adding a form field that asks the viewer why they are on the site. Give them the opportunity to tell you about them. You can then use this information to create a more relevant experience suited to their needs.
HOW CAN I USE IT? (A REAL LIFE EXAMPLE)
Margaret is on our website. She identifies as needing help with "digital marketing" and found us through organic search on Google, though if that's all we've got at this point, Margaret is getting a generic experience. She came in on the blog via a long tail keyword and converts on a form for an ebook. The form she fills out identifies her industry, and the ebook she has downloaded identifies the service she might be most interested in. She jumps off the site, clicks over to her email, grabs a coffee and has a meeting.
The next day she takes lunch outside and reads some of the ebook on her ipad. She's learning a lot about the web experience as a whole and wants to discuss it further.
Later that night she talks to her partner about the content and goes back onto the site to show them the blog post and ebook, but this time she's given another piece of great content that helps her explain her new findings and provides context for her business application. Winner winner chicken dinner.
For more cool points utilising the wonder of HubSpot, grab PT1 of the 4 part series on "How to HubSpot" with Jonno, our performance manager. He'll talk you through all the best growth and lead driving strategies.