Little Tokyo Two is a rapidly expanding Coworking space in Brisbane, Australia. When LT2 approached You & Co with a large appetite for growth, it was clear that productivity and momentum were key to their steady rise to success. There was no shortage of activity, but the challenge now was driving towards a meaningful outcome, increasing their customer base and validating effort and investment. With a big drive, but no online structure to develop the sales process, LT2 knew they needed help.
THE LT2 BACKGROUND:
The original Little Tokyo Two website was attractive, but had limited functionality. It was scattered across different domains, with the only options for interaction from the homepage going directly to a contact form, or the option to make a call. LT2 lacked any top and middle of the funnel content, as well as very limited lead capturing and nurturing ability. There was no centralised dashboard to review any reporting on the efforts that were being made.
THE CHALLENGES PRESENTED:
Young business, needed awareness
Consulting multiple agencies to implement inbound strategy through tech integrations and a Wordpress "frankensite"
Couldn't identify what was or wasn't working
Weren't attracting leads or mapping personas
Relying on networking offline which wasn't necessarily where their personas were
Marketing wasn't adaptive or able to be updated easily
Weren't able to make decisions based on performance and pivot marketing strategy.
Little Tokyo Two came to You & Co looking for a fully integrated marketing and sales platform to accompany an upgrade to their website. As a startup, they were looking for a marketing strategy that would build their awareness in the Brisbane entrepreneurial scene and support their growing community of users at LT2.
LT2 knew they needed a website that could act as an active member of their sales team. Their existing website had been created by a series of helpful agencies, who were each looking to achieve inbound marketing with a series of integrated tools and a Wordpress base. The "frankensite" was operating blindly, with few lead conversion points or directions for the user to gain better insight into the business and not enough data to make decisions.
Little Tokyo Two's leader Jock Fairweather made it clear that the members at LT2 were at the very core of their value and positioning. The new site needed to be member centric and focus on the people, which was completely overlooked in the previous website.
THE APPROACH TO DESIGN:
Increase key conversion points.
Facilitating sales through the website
Growth driven design applied in line with the rapidly growing needs of the business.
Restructure site for better SEO and UX (one domain) increasing pages on site
Creating a Smarketing funnel
Implement workflows
Put CTA's and lead capturing on the site
Supported events, social community and the blog community
Included self service information online
Little Tokyo Two's primary goal for the website was to promote the LT2 message of Community based business - Collaborative working, learning and growing together. The site was designed and developed to incorporate these values without loss or dilution.
We've created a strong sense of the people in the community through:
Upfront social proof from existing members
An Identity panel for personas to engage with like minded people.
Including member stories and guest posts on the blog
Conversion points for new members to interact with
The buyer's journey points are clearly highlighted and inviting to the user. You are invited to "become a member", "book a tour" and "sign up" based upon their unique requirements.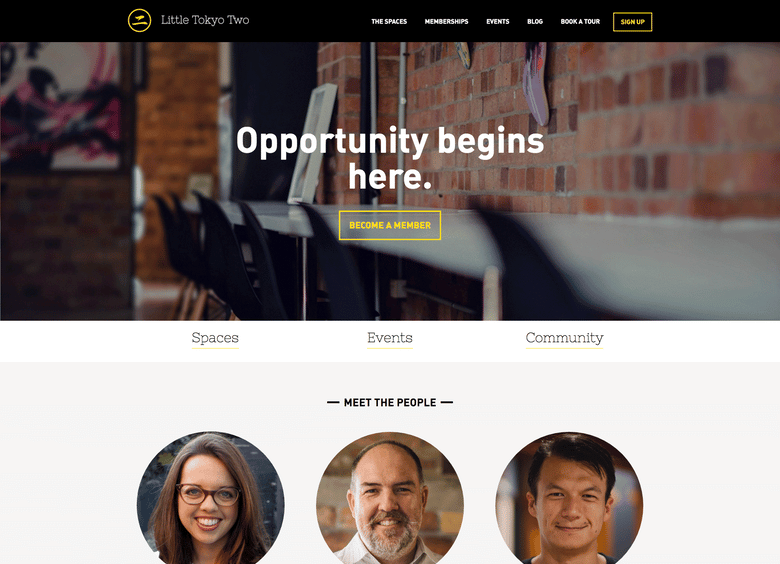 The biggest component of the new web design was to create a buyer's journey online that led the customer through the funnel to booking an event, or claiming a desk within LT2 to join the community.
THE DESIGN DELIVERED:
Developed buyers journey
Implemented multiple conversion points
Implemented Smart content/forms
Can facilitate sales online
Lead nurturing workflows in place
With the new design, we delivered a website that catered for visitors of all lifecycle stages, driven by the personas that we helped them develop with a logical flow between pages as they are guided through the buyer's journey. There are now multiple conversion points across the site, utilising CTAs and gated content through HubSpot. Additionally, LT2 now have the ability to implement smart content, and the forms on the website are setup using smart fields to allow for progressive profiling.
Facilitating sales through the website was key. Given the average sales size and the self serve purchasing style of the persona, it was an essential element to driving sales further.
Y&C integrated a Woocommerce component so that the site had the necessary ecommerce functionality, with the data feeding directly into HubSpot. This allowed the site to be self sufficient, freeing up the sales process and allowing the company to become more efficient overall.
Attached to the website are lead nurturing workflows setup, automating the process for them and delivering the LT2 team with a much higher quality of lead.
THE RESULTS:
Increased visibility of leads
Responsive website with a clear conversion path
Visible separation of leads by lifecycle stage
102% increase in organic traffic and the same for number of leads generated
25% decrease in bounce rate
80% increase in overall traffic
Persona driven content for each stage of the funnel
Developing along with the business - GDD is perfect fit for a new business that is rapidly expanding.
Albeit that we are very early in the campaign, the momentum we've already gained is exciting. With a well defined and planned inbound strategy in place, the coming months will be fun and rewarding to execute for the LT2 team. As it stands the improvements to site visitors, organic reach and social engagement through regular scheduled updates are growing month on month.