Some days it feels like the internet's stuck on repeat. An oversaturated landscape of websites repeating the same message in the same formats makes readers run faster than you can order a takeaway coffee. Effective inbound marketing strategy is all about giving value, being human, and standing out — it's a tough balance! So how do us wordsmiths of the web weave brand stories that'll help the business stand out while also resonating with customers to keep them coming back?
With attention spans shorter and increasingly sceptical, how you tell your story is more important than ever. After gathering endless inspiration for our eyeballs and trying out new formats for ourselves, we've brainstormed the storytelling formats every business should use to support the sales funnel. Truth is, just any old 500 word blog post format won't do anymore. These brand storytelling formats are exactly what you need for using storytelling in sales to deliver some big business wins!
The Most Useful Storytelling Formats For Each Stage Of The Buyers Journey
Ready to map out a full funnel of effective storytelling to guide your prospects through their journey? Many of these formats are flexible starting points for any stage of the sales funnel. However, to help you get started quick, we've categorised the formats according to where they'll best help you rise above the rest of the competition.
Infographic
Video
Quiz
Calculator
Interactive web page
1. Awareness
Awareness is the stage where prospects are experiencing the symptoms of a problem.
At this point, it's less about pointing visitors at your products saying "look at me!" and more about building brand trust and helping people think through and identify the specific challenges they're facing. That's why highly visual formats with maximum sharability will help you thrive!
Infographics
Infographics are visualisations designed to convey information in a quicker and more engaging way. Done right, these handy pieces of content are pure gold for "sharability", since they're perfect to distribute over several platforms.
Ultimately, a great infographic will:
Use an on-brand graphic style
Address a pain point or goal of a specific persona
Be concise and eye grabbing
Create a visual flow
If you're ready to switch up the usual blog format for something new, then infographics are the answer. Get started by identifying your 5 best performing blog posts and recommunicating your most successful stories to new audiences.
PROS
The highly shareable format makes your content a win for your blog, your socials, and more
Their visual style communicates your brand vision in a unique way
It's the perfect format for repurposing old content, that's experienced previous success
CONS
It's a time consuming and resource intensive endeavour
Creating infographics with popular freemium platforms means your final product may not be particularly unique or match your business' branding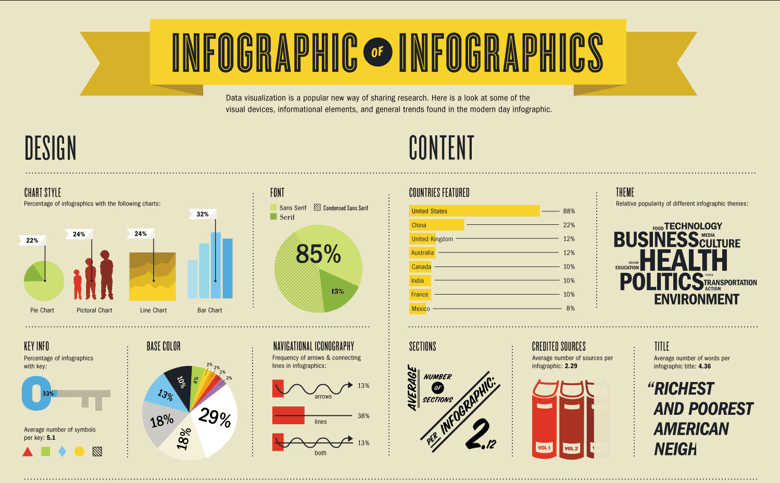 Image credit: Visual.ly
Video Content
Building on the visual approach of an infographic, the video takes a piece of awareness content to the next level.
The approach that often leads people astray with video marketing are assumptions about its purpose. Unlike long form blog content or downloadable guides, detail is not the purpose of a video. Evoking energy and emotions in the audience is the ultimate goal of a video.
Videos don't exist to give viewers all the info, they exist to make viewers excited enough to seek out all the info. — Reuben Field
PROS
Highly shareable across your blog and socials
Employee interviews, behind the scenes footage and vision sharing are all excellent ways of communicating company culture
Webinars are one example of affordable and informative video styles
CONS
Time and resource intensive
Outsourced video production costs can become quite high
If you're filming inhouse, equipment costs are also large
Requires training in presentation, editing, script writing and more.
Facebook is soon to roll out ads during videos, which will decrease viewing experience
2. Consideration
Consideration is the stage where prospects recognise the problem they're facing and are committed to exploring their options.
At this point, it's all about addressing their pain points and informing them with valuable content around possible solutions. Interactive content at this stage will further help prospects self qualify themselves as qualified leads.
The Quiz
There's a reason Buzzfeed quizzes have taken over a large part of the internet. We aren't all just obsessed with discovering which Friends character or which emoji we actually are (important life questions…).
Interactive elements put us, the readers, in the driving seat with fun, simple and highly shareable content. When interactivity is at the forefront of a content experience, prospects are more likely to remember valuable information and further engage a brand.
Weaving your story through a quiz format is an invaluable way your business can help prospects as they evaluate the problem they're facing — and build trust as a potential solution for their woes.
PROS
Quick and easy to set up
People love sharing their results which is great brand awareness, if done right
CONS
Can come across as gimmicky
Cross browser compatibility issues can contribute to higher bounce rates
While easy to set up, needs strong strategy to leverage as a lead generation tool
The Interactive Webpage
Weaving interactivity and storytelling into your web pages as well as into individual pieces of content is where the real genius begins. There are many ways interactivity could work to disadvantage your brand — from poorly designed pages that take too long to load, to copy that poorly targets the right personas. However, with the right strategy and execution, your interactive webpage could transform your business.
An interactive web page is an indispensable, highly shareable, often evergreen piece of content that'll keep the customers rolling in. By taking the interactivity of quiz further, interactive web pages can provide even more valuable content that'll support prospects through their journey.
Take for example, OfficeVibe's Report for Workplace Satisfaction 👇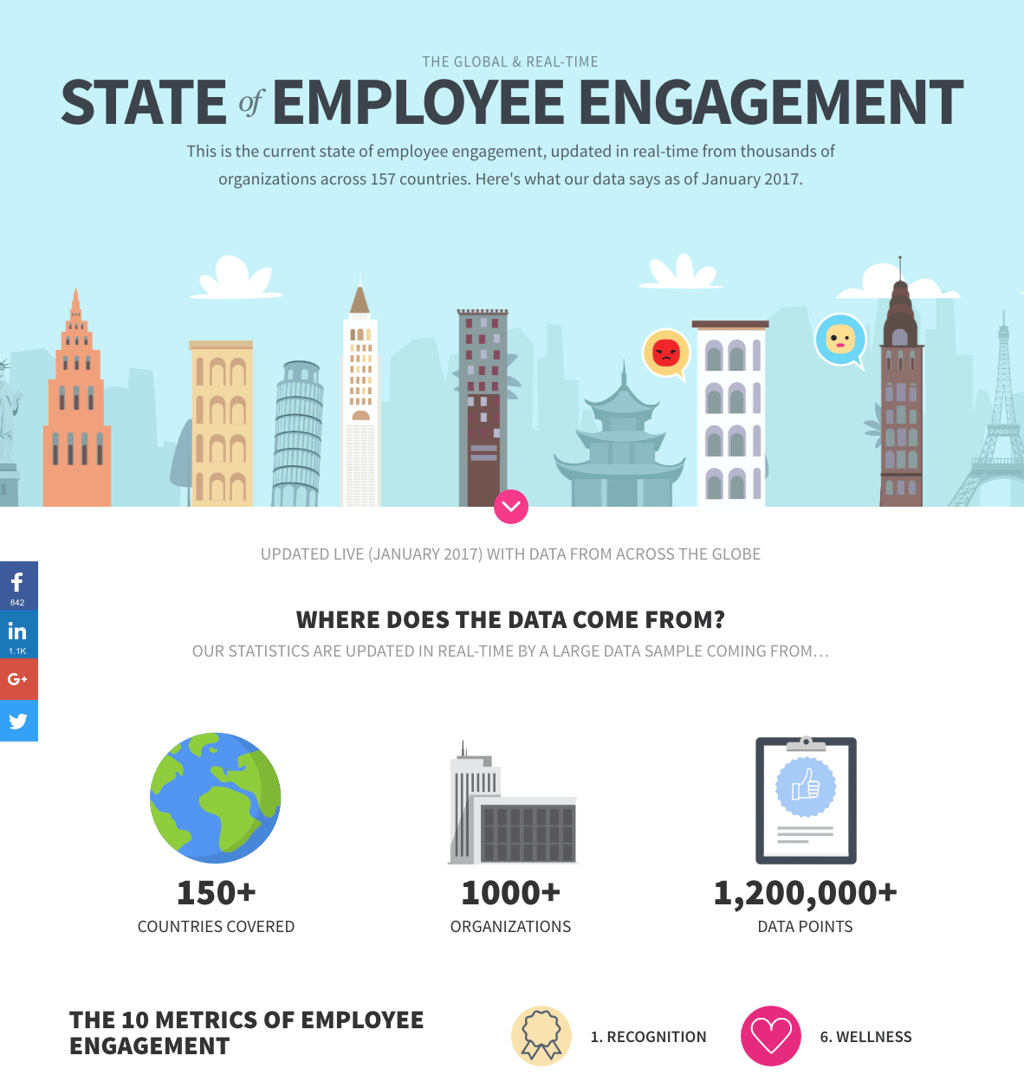 It's bright and bold, loud and proud with subtle animations that draw the eye further down the screen. As viewers scroll down, various moving elements emphasise key statistics, while bright buttons urge you to engage further. The page further serves as a lead generation and lead nurturing tool, with several opportunities for prospects to download free content assets and become leads. What's more, you're sure to bet everyone's talking about and sharing the interactive page, because boy those animations are interesting and fun!
Are you ready to invest well in creating a standout piece interactive content?
PROS
Great for engaging audiences with something a little different
Well executed interactive elements can be great lead convertors
CONS
Time and resource intensive
Can come across as gimmicky, without the right copy and complementary campaign
3. Decision
Decision is the stage where prospects are weighing up specific solutions to their problem.
In other words, it's crunch time — so providing valuable content to guide prospects through their decision making is where it's at. Make sure the story you're telling through interactive content addresses the real pain points, potential objections and ultimate goals they've got in mind.
The Calculator or Assessment Tool
In contrast to quizzes, calculator and assessment tools are often when people want to start crunching numbers — this interactive format becomes more and more relevant the further down someone travels through the sales funnel. Whether it's a matter of money, resources or suitability, all great calculators or assessments offer easily downloadable results (often in a PDF format) along with options to share the tool.
PROS
Driven by honesty and drive of user's input
Tools targeted to a specific persona, driving towards a sales conversation, offer excellent lead generation opportunity
Helps you validate leads as marketing or sales qualified leads
CONS
A poorly executed tool that's not user friendly damages brand reputation
High cost of design, development and more
Over To You
So you've got a story to tell. Every pixel on the screen, every word on the page matters when crafting a cohesive tale of business and prospect wins. What formats will do your story justice?
At the end of the day, the goal is to create great content that draws your potential customers in with the value and the right storytelling — there's no one size fits all way to do this! If business growth and sales wins are your jam, then grab your free guide to improve your Social Selling efforts below.
Need something else? We'd love to chat with you about all things marketing, content and business — drop us a line 👋